Restaurant Rewards
Citadel Center Restaurant Rewards!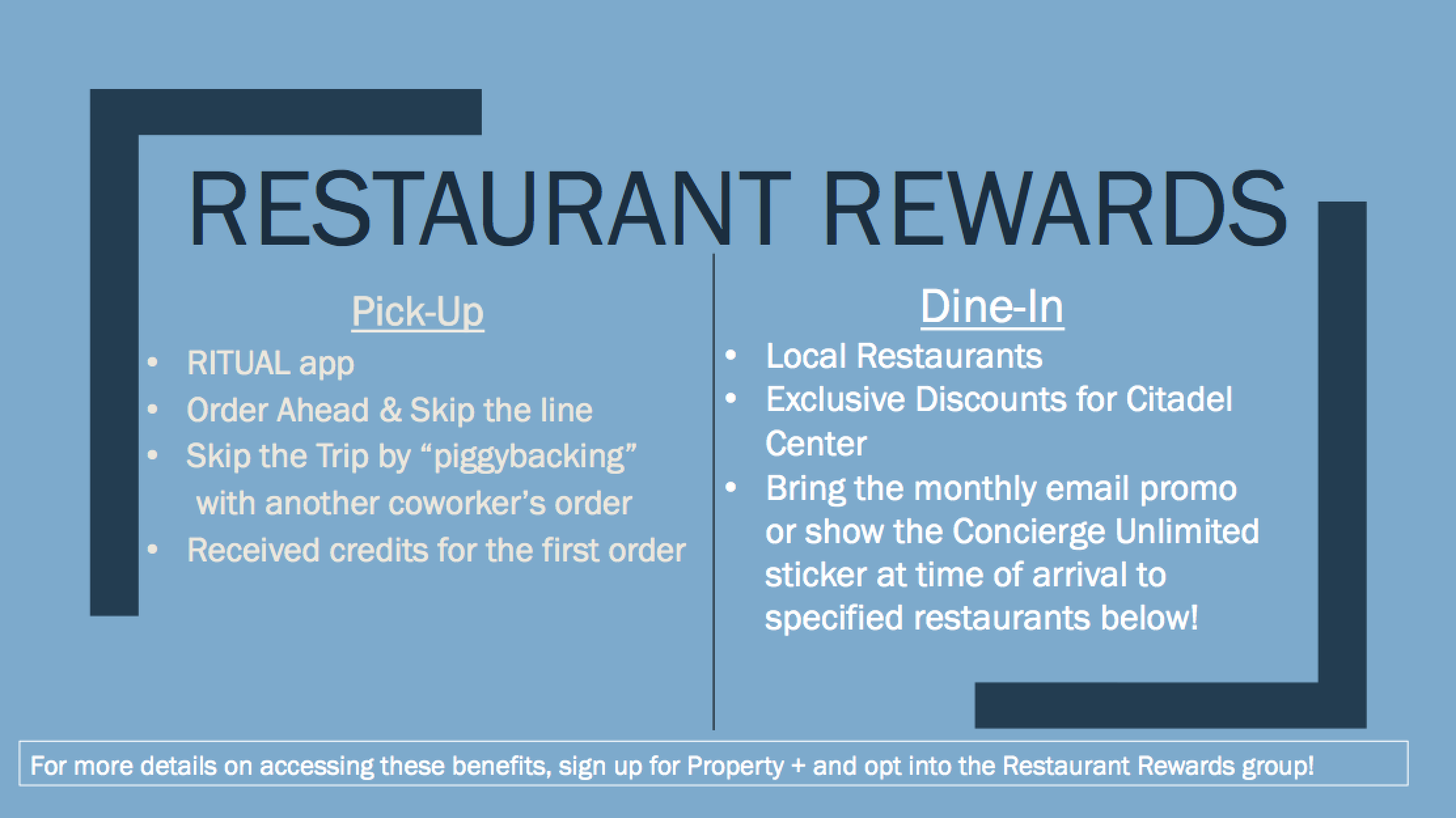 Be sure to opt into the Restaurant Rewards Group on Property + through your Notification Settings!
You will receive the monthly promo image that can be used in addition to the Concierge Unlimited Sticker that can be picked up at the Security Desk. Get updates on new restaurants and perks, too!
Tenants can sign up for Property + Communications through the Tenant Portal (Building Amenities > Property +)


You may "opt into" groups through (Your Account > Your Notification Settings) once registered.


In order to obtain a sticker for discounts, you must be enrolled in the Restaurant Rewards group.


Complimentary glass of bubbles
for lunch or dinner!

18 South Michigan
312.578.0763
www.acantochicago.com






Complimentary glass of bubbles
for lunch or dinner!

405 North Wabash
312.955.4226
www.beacontavern.com


10% off any parties of 6 or less
for lunch and dinner!
No double discount such as happy hour.

20 North Michigan
312.782.6000
www.remingtonschicago.com






15% off lunch and dinner, as well as online orders!

135 West Madison
312.940.3760
www.theroanokerestaurant.com




10% off lunch and dinner!

1 South Dearborn
312.384.1900
www.rosebudrestaurants.com







10% off lunch and dinner!
(Does not apply to carry out or Grub Hub)


130 South Michigan
312.880.0130
www.sevenlionschicago.com


10% off lunch and dinner!

120 West Monroe
312.801.8899
www.steadfastchicago.com



10% off Service & Product!

320 North Dearborn
312.285.2318
www.talcandtonic.com





The Berghoff
10% off whole check!

17 West Adams
312.427.3170
www.theberghoff.com





Complimentary glass of bubbles
for lunch or dinner!

24 South Michigan
312.372.4243
www.thegagechicago.com





10% off entire check!

159 East Monroe
312.443.8650
www.terzopianochicago.com




Complimentary Bruschetta
in the Village & Vivere!
Lunch Only

71 West Monroe
312.332.7005
www.italianvillage-chicago.com




15% off Lunch!

33 West Monroe Street
312.960.0000
www.grillroom-chicago.com